CHARLES DE KUNFFY HONOURED BY THE U.S. DRESSAGE FEDERATION
The United States Dressage Federation (USDF) announced that Charles de Kunffy and Anne Gribbons will be inducted into the Roemer Foundation/USDF Hall of Fame (HOF) at the Salute Gala and Annual Awards Banquet, on December 7, 2013, during the Adequan/USDF Annual Convention in Lexington, KY. Induction into the HOF is an honor bestowed on individuals and horses that have made outstanding contributions to dressage in the United States.
Charles de Kunffy has become known as a lifelong educator, prolific author, and charismatic instructor, and has had a resounding impact on dressage in America. For more than fifty years, he has dedicated his life to teaching classical dressage and sharing his passion for training and riding with horses and riders from all walks of life. His work as a national and international teacher, lecturer, and clinician has taken him throughout Europe, Africa, Australia, Canada, and the United States. Charles has published over seven books, including two autobiographies, as well as contributed his expertise to publications such as Dressage and Combined Training, The Chronicle of the Horse, Dressage Today, and USDF Connection. A retired FEI "C" (now 3*) and US Equestrian Federation "S" Judge, Charles has also served in various roles for several groups, including the Training of Teachers of Tomorrow Trust, USDF "L" Education Program, and International Dressage Judges Club.
USDF President George Williams said, "Charles is one of the most eloquent ambassadors of dressage in our lifetime. There is no doubt his writing and teachings will continue to inspire many more generations of dressage enthusiasts to come."
Courtesy of "The Chronicle of the Horse"
~~~~~~~~~~~~~~~~~~
ON BEHALF OF ALL THE TTT MEMBERS, WHO'S EQUESTRIAN LIVES AND CAREERS HE HAS ENRICHED SO GREATLY,
WE WOULD LIKE TO OFFER CHARLES OUR WARMEST CONGRATULATIONS ON THIS WONDERFUL HONOUR.
~~~~~~~~~~~~~~~~~~

CHARLES DE KUNFFY TRAINERS' DAY
Charles de Kunffy attends East Whipley Farm twice a year. I was lucky enough to be one of those to attend his Trainers' Day and also be invited to be a "guinea pig" riding one of my client's horses. Clinics with Charles are an illumination, bringing understand and clarification to many aspects of riding – e.g., many 'light bulb moments'. I won't go into the rapport that both horse and rider experience from training sessions, just to say that his understanding of problems and his ability to put solutions forward in such a way mean that both riders and audience go away uplifted and inspired. Everyone gains so much from his understanding of improving horse and rider in both mind and body.

The Training Day with Charles de Kunffy, which takes place on the final day of his clinic, was a fitting end to what was a tremendous few days. This should be compulsory attendance for anyone aspiring to be or anyone currently instructing / training / coaching horse riders in any equestrian discipline. The following words are not quite up to the same standard as Boris but are said with the same heartfelt emotion. These informal but well organised and intimate days are such an experience not to be missed.

Charles is a fascinating and philosophical instructor and has the ability to use analogies to put his points across. He initial start to his riding career commenced during the Second World War and then the Hungarian Revolution when in 1952 he was admitted to The Riding Academy in Budapest as 'the youngest student ever'. During his time there he had to ride and school a multitude of horses, both talented and untalented, bringing them up to Olympic standard. He claims to have had 'divine equestrian teachers'. As well as being outstanding equestrians some were high ranking officers and had doctorate degrees, psychiatrists, authors and scholars. He was taught with strictest adherence to classical training traditions based on scholarship and a profound respect for the horse. He represents the unbroken heritage of classical horsemanship handed down from generation to generation without compromise. 'Everything was classed as dressage work. Sliding down embankments, jumping triple bars and galloping fast down forest paths all necessary extension of dressage. All executed on the aids 'on the aid' and with the horse in longitudinal the horse surrendering his haunches to the rider and remaining responsive to the leg seat and rein aid '

It can only be Charles' vast experience of life, horses, and understanding the psyche of both horse and rider, as well as the mechanics of both, which makes him such an inspiration to learn from. Whatever ability a rider has his enthusiasm to pass on his knowledge is always there.

He believes 'that the honour of teaching the traditions of the great equestrian arts commands an instructor to perform with equal dedication and thoroughness whether teaching a beginner or coaching an Olympic gold medallist.'

The first morning theory session started with Charles explaining the pivotal point of what it means to be a horse rider, and how these qualities should be present in the everyday embodiment of a 'good' person. 'Riding is a metaphor for life lived well and wisely', were his words. He divulged that the virtues which are needed for horse riding must also be present if one wishes to live an ethical life and they are: Be Honest; Never Cheat – and Do Not Hurt Others.

His psychological approach underlines why a rider needs to develop and harmonise their spirit, mind and body. He emphasised the importance of comprehending the theories behind riding, as someone who does not know where they are going will always arrive with confusion, which leads to being about the form and not the correctness. However if you know what you want you can get there. After the break Charles shared some of his 'golden rules' about how riders should develop their own personal discipline before they can hope to develop that of the horse. He illustrated this by using amusing anecdotes from his past experiences as a student in the European riding academies. Most instructional as well as entertaining!

Moving into the indoor school we started with the first practical session before lunch. This had one rider perform patterns of a novice dressage test, while the audience contributing with analysis of the horse and rider. Interacting with Charles in this way while he is teaching helped guide one through traditional training systems. Then with Charles' input both horse and rider worked on identified areas and improvements were quickly seen.

After lunch, the second rider (that was me) rode a test incorporating lateral work for analysis by the audience. During this time Charles reiterated, as a coach, one must analyse the strength and weaknesses before discerning the specifics for successful development of that horse and rider. Throughout this session Charles emphasised and highlighted how small changes in the riders' position can transform the engagement of the horse. Although riding for 'demonstration purposes', it was magnificent to be able to consolidate the previous lessons I had received from Charles. I felt honoured to have been asked to take part in assisting Charles to emphasise his previous points.

The third rider of the day, under Charles' direction performed a series of lateral work exercises. With each individual exercise Charles explained how each specific exercise was used for strengthening and developing certain areas of the horse. Charles also pinpointed when it was appropriate to perform each exercise as opposed to inappropriate use of certain exercises. Again we were able to participate alongside Charles gaining from his insight and humour.

In the final session of the day, the rider again performed a test displaying a sequence of lateral work, after which Charles instigated improvements via small changes in the rider through a structured plan of work. This inspired us all to think about how subtle one has to be.

At the close of day when Alex and Tucker thanked Charles for coming and his initial involvement in establishing the Trust, he reciprocated the thanks by saying that he always liked coming to the Trust and it was his favourite place to teach.

Charles imparted a vast wealth of information from his years of experience and dedication to the correct training of riders and their horse. The whole experience of watching Charles coach, being present for his lecture demo and taking part in the Trainer's Day is an emotional and spiritual awakening. Whatever your dealings with our noble friend, the horse, it is something that should be experience by everyone and I would strongly advise everybody to make the time to attend. You will go away with far more understanding and enlightenment proving that in classical riding "where else in the world of sport are athletes called upon to muster the combination of strength and artistry demanded by dressage. Requiring the power and precision of gymnastics, and the grace and subtlety of ballet, dressage challenges mental preparation as well as physical prowess" . Motivated by Charles, this can be achieved.

I always leave 'my holiday' slightly humbled but immensely grateful that the knowledge I have gained can be passed on to my clients. This is accompanied by a sense of sadness that I have to wait until early next March when Charles will again be at the TTT. Hopefully I will be able to practice my 'homework', by then, as he inspires us not only to be better equestrians but better people.

Thank you, thank you, thank you, to everyone involved in the TTT for giving me the opportunity to train with Charles. Many thanks also to Moira for allowing me to ride her wonderful horse during this enlightening journey to improvement. Hannah Fenech

TRAINING FOR THE OLYMPICS
No, sadly I'm not competing!
I am, however, one of a very small number of privileged people who made it through the rounds of interviews to gain a Volunteer post: in my case, as a computer operator for the dressage.

This involves sitting in the box along with the judge and their writer, and entering the scores on a key pad for real-time results to wing their way to you, the audience, both live and on TV.

It's just the best job in the world (apart from being a rider, that is). I get to sit and watch the best horses in the world at really close quarters, and hear the judges give their comments without having to concentrate on writing them down: all I have to do is punch in a number and press 'enter'!

I've been lucky enough to do this job regularly at Hickstead CDI since instant scoring was first pioneered; at Olympia for several years, and at two European Championships (Hickstead 2003 and Windsor 2009). If you keep an eye out as the TV camera pans across the arena and you catch a flash of bright ginger hair: that'll be me!

So, the Olympics.

The Volunteer process began with an interview in London's Docklands back in January 2011. As a specialist technical volunteer with the required experience, I was amongst the first batches of interviewees.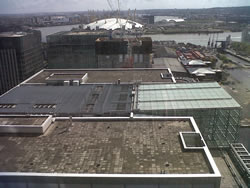 In total, 250,000 people were interviewed, 6,000 of them technical specialists.

70,000 were chosen, including 2,000 for the Technology Team.

I waited 14 months before getting the thumbs up! That has to be some sort of record for the greatest interval between interview and job offer, surely?

After the agonizing wait and conviction that it would never happen, I still haven't come down to earth: I'm going to be there, working at the Olympics!

The first step in training Volunteers is an Orientation meeting: 3,000 people at a time, at a huge venue like Wembley Stadium. They are running out of time now to process everyone, and quite a few of us seem to have missed this. However, with plenty of experience at my job, this doesn't unduly concern me. Next up is technical training. We are offered a choice of dates for these sessions which run from 9am – 11am in Canary Wharf. Looking at the dates, I chose a Sunday, my idea being that this would be easier than getting into central London on a weekday. My mistake.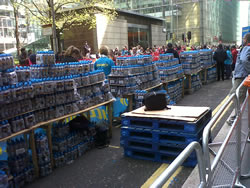 Driving home on the preceding Friday, after a great three days of judging at the BD Winter Championships, including a seven and a half hour stint (2 classes) that day, I had the radio on in the car to keep me company. Now, I'd already planned my route for Sunday, checked with map and SatNav for the time I needed to set off, located the nearest car park and found out about parking charges. I was organised.

Until someone on the radio happened to mention this little thing going on in London on Sunday called the London Marathon!!! Oh oops!

Bang went all my plans. I spent a chunk of Saturday sitting at my computer, studying the route of the Marathon and yes, it goes completely around Canary Wharf (miles 18 and 19) and all roads in the area would be shut from 7am – 11pm.

One panic phone call later and Plan B was in operation. Leaving home at 6.30am I drove to Upminster and left the car with my good friend Annie Pye. She obligingly dropped me at the railway station and I made my way into central London by rail, squished in with several thousand Marathon spectators.

Training took place on the 20th floor of a building with a fantastic view over Docklands and the O2 Arena. The first hour and a half consisted of general Volunteer training. I did wonder why we had to do this but as they explained the answer became obvious: we may be doing behind the scenes jobs, but we'll be travelling to our venues in our uniforms and any member of the public could ask us a question which we should be prepared to answer. Another of those little things that makes the Olympics different to any other International competition I've ever attended.

We rounded off with a half hour introduction to the Tech Team. We can't actually be trained on the equipment we'll be using until it's in situ, about five days before the competition starts. That will also involve venue training, where we'll learn such things as access points, security protocols and health and safety measures.

I was the only one from equestrian sports there that day, and ages and types of people were widely varied, but we were all infused with a great sense of enthusiasm for the tasks ahead, and that slight awe of being an integral part of such an amazing event.

Once we were finished, I got to see the Marathon first hand: something I would probably never have done otherwise.

And more to the point: I now know how to direct a person to the toilets, even when I'm not sure which gender they are....